It's been a while since I updated the site due to a broken laptop but we're back now! The past few months have been busy, considering it's Winter, when gigs are always harder to come by…
I played a short tour of the US East Coast in November with the Red Hot Chilli Pipers which was fun. We played 2 shows in Connecticut and 1 in Pittsburgh, all of which were well received and I had a blast on stage 🙂 The gigs were great, but the business class flights from Glasgow to New York – and back – were something else. A new level of luxury and a first for me! Another part of the trip I enjoyed was the 450 mile travel day, mostly because i got to drive a 5.4l SUV for a lot of it – monstrous. Overall a top experience, cheers RHCP.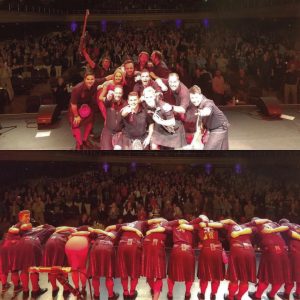 Later that month, I was given a small part in TV series 'Outlander' (as a piper, thankfully). We filmed at a bridge in Kelvingrove Park and there were about 10 takes. It was a bitterly cold day but worth the chitters! Nice to be involved in something different.
Mark and I, Dhol & Pipes, got together before Christmas to film a festive vid for our Facebook page. We had the tree & presents in the background, xmas hats & jumpers on, even lights round the instruments! 'Jingle Bells' was the tune and we couldn't have been happier with the response. The video has over half a million views – awesome, thank you.
https://www.facebook.com/dholandpipes/videos/vb.1606470079618182/1808948616036993/?type=3
Hogmanay was busy as always. Firstly, I played an evening gig with the Royal Scottish National Orchestra at the Royal Concert Hall in Glasgow. 3rd year in a row and have loved piping with the orchestra every time. Then I drove to Paisley to play in the bells at The Bungalow, which is a cool wee rock club. Straight after midnight celebrations, myself and the band for the night, FreeSpeech, played AC/DC's 'Long Way to the Top'. Some laugh and went down well.
FreeSpeech playing with the piper Jonny Graham last night at The Bungalow.

Posted by FreeSpeech on Sunday, January 1, 2017
My most recent gig was at Cafe Gandolfi for their 'Burns in the Bar' event. Played outside for guests, opened the night with a wee set of Burns tunes and finally piped the haggis in – a nice well-run evening by Kevin and his team.
P.S. Almost forgot! I was in New York on US Election Day!! The Chilli tour coincided with it so i took a jaunt to Trump Tower. There was some buzz about the place, police everywhere and the whole block shut off to the public.
I didn't happen to catch a glimpse of The Donald that day, but the year before, I met him at Turnberry after playing a gig for the Woman's British Open and got a photo. At the time, I didn't think for minute he'd be the next US President :O