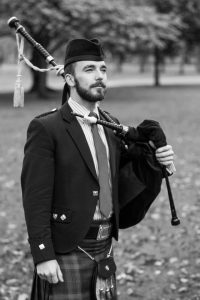 Grade 1 bagpiper Jonathan Graham has played since the age of 10, his raw talent gaining him numerous awards as a solo piper. He developed an interest in bagpipes from an early age through hearing his Grandfather play on a regular basis. Jonathan is a piping tutor and has many students in Glasgow, as well as foreign students in Holland, France, Germany and the US which he teaches via Skype. He is a former tutor at the world-renowned National Piping Centre and held the post of Evening Class Coordinator there. He graduated in 2012 with a First Class Honours degree in Scottish Music – Piping at the Royal Conservatoire of Scotland.
He is a successful solo competitive piper and has played in many pipe bands, most recently the prestigious Scottish Power Pipe Band, and has also travelled the world representing Scotland with the National Youth Pipe Band. Aside from the traditional side of piping he participates in many contemporary projects, the main one being the world-famous Red Hot Chilli Pipers, who he travelled to America with recently for a tour. Due to this wealth of experience in all contexts of piping he is often asked to speak to journalists and film crews about Scottish music, history and culture when they visit Scotland. He also has experience judging piping competitions; whether it be solo or bands.
For a man of 27, Jonathan has gained much life experience, for example; being invited to perform at New York's Tartan Week celebrations in 2005 & 2011, has appeared on various tv shows including River City, Blue Peter, Flog It, Channel 4s 'T4' and has performed with Susan Boyle on the Paul O'Grady Show. Jonathan has also recorded pipes on many different audio projects including a new version of 'Caledonia' which has just been released. He has been invited to various countries in Europe to perform & teach at schools, has become a regular at the prestigious 'McCrimmon Trophy' piping competition in Lorient, and has also travelled to Mongolia to compete in the 'Gobi Challenge' – a 140mile ultra-marathon across desert terrain- at the age of 17, the youngest person by 10 years to ever do this.
Career highlights include travelling all over the world to perform, playing for Her Majesty Queen Elizabeth II, His Holiness the Dalai Lama & MMA Superstar Conor McGregor, being selected as the lone 'Hero Piper' at the Delhi 2010 Commonwealth Games Handover Ceremony performing to 60,000 in the Jawaharlal Nehru Stadium, India televised to 1 billion people, and most recently playing to a televised audience of 1.5 billion at the Glasgow 2014 Commonwealth Games Opening Ceremony alongside celebrities such as Amy MacDonald, Rod Stewart & Susan Boyle.